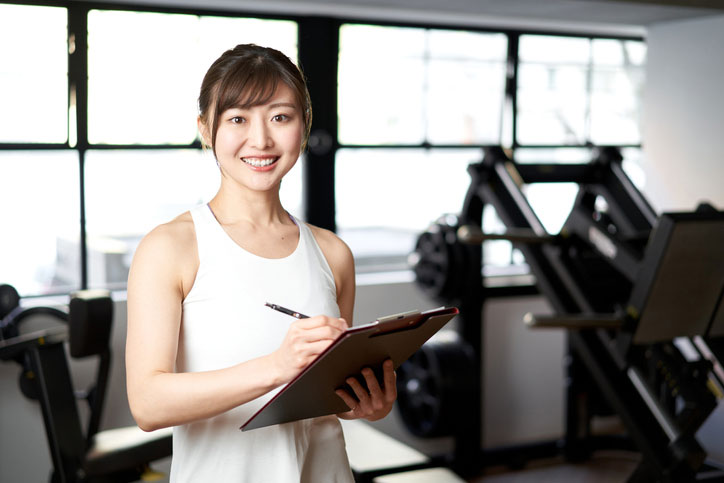 Personal fitness training is a largely self-regulated industry. It has no state licensing boards or central governing body. There aren't even state or federal regulations about using the title or charging money to train. The entire decision about who is qualified is up to the clients who hire personal trainers and the gyms where they offer their services.
<!- mfunc feat_school ->
<!- /mfunc feat_school ->
Sponsored Listings
In a world where anyone can call themselves a personal trainer, voluntary professional certification is what separates the qualified and competent professionals from everybody else. This is what's meant by a self-regulated industry.
But there's a catch: personal training certification is only as good as its reputation in the industry. It's important to ensure that your credentials clearly reflect your knowledge, skills, and aptitude in personal training. You'll have to choose carefully to find the best match for your personal training style and goals. We're here to help make sure you have the information you need to make a sound decision and a wise investment in the certification you choose.
Which Certification Option is Right for You?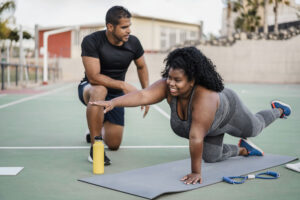 The first thing every personal trainer should know about certification is that there is no one-size-fits-all option. Everything from specific areas of expertise to client demographic specialization to methodology is reflected in the certification you hold. The ideal fitness training certification for another personal trainer may not be a great fit for you and the services you offer. You are best served by narrowing down your certification options based on:
Scope of practice – The range of services you offer; for example, do you only do general strength and conditioning, or do you plan to offer a holistic approach that includes nutritional guidance? Certifications exist to span different scopes.
Industry reputation – A certification that no one has ever heard of doesn't do you much good. When prospective employers, other trainers, or clients nod their heads with approval when you mention who your certification came from, that's a good indicator you picked an agency with a good reputation.
Personal training specialty – Many specialized certifications exist in areas like yoga, kettlebells, or other specific techniques.
Population/demographic specialty – Finally, you can narrow down certifications by different demographic groups, whether it's kids or the elderly.
You might also make your choice based on whether the organization that offers the certification has gone through an accreditation process to ensures the integrity and rigor of the certifications it offers.
Personal training certification may serve as a supplement to your college degree in an area like exercise science, exercise physiology, kinesiology, or fitness management, or it may be your singular source of education and training before you become a personal trainer. Either way, it's wise to ensure that the professional certification you pursue is right for you and your career in personal training.
National Accreditation
Accreditation is an independent process that evaluates certifying organizations according to independent standards for knowledge, experience, and client safety. The three main agencies that offer accreditation to personal fitness training certifiers in the United States are:
NCCA – National Commission for Certifying Agencies
DEAC – Distance Education Accrediting Commission
NBFE – National Board of Fitness Examiners
Verifying national accreditation is often the first step when narrowing down your options for personal training certification.
NCCA
NCCA – (National Commission for Certifying Agencies) is the biggest player in personal fitness certification program accreditation. Just a few of the personal training certification programs that are accredited by the NCCA include:
American Council on Exercise (ACE)
American College of Sports Medicine (ACSM)
National Strength and Conditioning Association (NSCA)
National Exercise Trainers Association (NETA)
Part of what makes NCCA a powerhouse is that they aren't exclusively devoted to personal fitness accreditation. Instead, they accredit a wide range of certification programs devoted to the health, welfare, and safety of the public. That includes everything from nurses to respiratory therapists to crane operators.
With the high standards that come from evaluating so many different professions and broad industry recognition, it's hard to go wrong picking a certifying agency that has gone through the rigorous and independent NCCA process.
DEAC
DEAC – (Distance Education Accrediting Commission) accredits relatively few personal fitness certification programs, but they come at the business from a different angle. As you can guess from the name, they look at remote training programs and certifications.
Although remote instruction was once an anomaly in personal fitness circles, COVID-19 shut down gyms and fitness centers around the country and put a very different spin on remote coaching. Today, DEAC accredits certification agencies like ISSA, the International Sports Science Association, validating the quality and skills of their distance education delivery.
NBFE
NBFE – (National Board of Fitness Examiners) is unique in the personal fitness certification accreditation space for focusing exclusively on fitness. Defining the scope and standards of practice for fitness trainers, NBFE can both offer certifiers guidance on the best practices and evaluate their exams and systems for compliance.
Covering 7 major test areas and 16 measurable objectives, rigorous National Board Exams for trainers give certification agencies a target to aim their programs at. Big names with NBFE accreditation include:
Athletics and Fitness Association of American (AFAA)
National Strength Professionals Association (NSPA)
American Fitness Professionals and Associates (AFPA)
Personal trainer certification programs that are not accredited by the NCCA or another national or international accrediting body offer little to no assurance that they will provide you with the knowledge and skills required to offer safe and effective personal training services.
Making Certification Part of Your Story as a Personal Trainer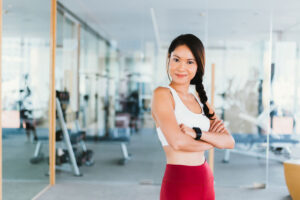 It's easy to get lost in the process of certification. You can end up just looking at the costs and qualifications, checking boxes and filling out paperwork. It's true that certification has an important role to play in developing a credible, professional personal training business.
But certification can also be something that plays a part in developing your own personal story and becoming a part of the motivation that you have to offer to your clients.
That's because certification is a journey itself, and often a tough one. Earning a certification is an accomplishment. It takes hard work, dedication, and intensive study.
That's a mirror for the kind of journey that your clients are going through in their own personal fitness and health development. And it's a story you can share to help motivate their success. Clients need to hear stories from other people who have done tough things to accomplish great goals. And certification is a built-in story that you will have as a trainer to share with them.
Scope of Practice
A scope of practice defines the kind of services and training that you will focus on providing to your clients. It's a recognition that you have developed a level of expertise in certain exercise and training programs and will stick within the boundaries of that expertise when charging for services.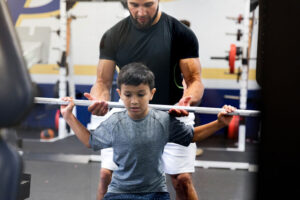 Certification programs will vary based upon the specific scope of practice they are designed around. This means the certification you choose should be in line with the type of personal training services you offer.
Naturally, the National Strength and Conditioning Association (NSCA) is ideal for personal trainers who are focused on strength and conditioning, while the American Council on Exercise (ACE) emphasizes the promotion of health benefits for children and adults rather than improving optimal performance among athletes. Each of these concentrates on teaching and evaluating your skills in those specific areas of fitness training, and they validate your skill and competence in providing those services.
Industry Reputation
The personal trainer certification you hold is not useful to you if clients and employers in the industry do not recognize it.
The level of recognition and respect that a particular personal trainer certification process receives can vary between regions and even gyms.
This means it is often in your best interest to ask other professional personal trainers and local employers about their certification preferences. That will provide you with a shorter list of certification options to choose from that you know are recognized and respected in your fitness community.
List of Personal Training Certification Options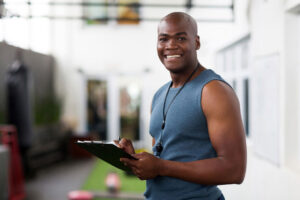 There are a lot of different personal trainer certification agencies out there. More are introduced all the time. But to help you get started in your search for the right certification for your goals, we have put together a list of some of the most popular certification bodies in the personal fitness training space today.
But the benefit of having such a wide range of certifications available is that you have many options for picking the best recognized program in your area of expertise and in the part of the country where you'll be serving clients.
Personal Training Specialty
Personal training is a niche of the health and wellness industry, but this profession can be narrowed down even further by specialty. This means there are several professional certification options designed specifically for popular personal training specialties.
For example, the National Exercise Trainers Association (NETA) offers specialty personal training certification in the following areas:
Indoor group cycling
Kettlebell
Pilates mat
Pilates reformer
Wellness coach
Yoga
Chances are, you already have some idea what type of personal fitness training you plan to specialize in. Picking a certification within that specialty is ideal, but not required. Certifications can also be ranked by skill level, with more advanced training and testing requirements.
You can pick up more than one certification, in more than one specialty area or in more advanced fitness practices if it benefits your career!
For example, the American Fitness Professionals & Associates (AFPA), an industry-leader, also offers specialty personal trainer certifications in the following areas:
Advanced personal trainer
Master personal trainer
Strength and conditioning specialist
Sports conditioning specialist
Senior fitness specialist
Post-rehab specialist
Personal trainer for special populations
Functional training specialist
Personal Training Certification Requirements and Features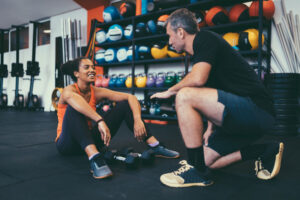 The thing that separates one personal training certification from another, besides reputation, specialty, and scope, is what it takes to earn it. Every certification has a unique set of requirements and standards that you will have to meet to get your name on that important piece of paper.
Eligibility Requirements
All certification programs require applicants to be at least 18 years old, and most require a high school diploma or GED. As a rule, all professional certifying bodies for personal trainers require eligible candidates to be CPR/AED certified. Further, some organizations require candidates to have some previous fitness experience.
For example, the National Federation of Professional Trainers (NFPT) requires candidates for personal training certification to have at least two years of fitness experience.
Although it's obviously harder to qualify for certifications with more stringent eligibility standards, you'll also find that those are the certs that tend to get more respect in the industry. With a better educational background, people who qualify for them have an edge in the field.
Program Requirements
The amount of study required to take the appropriate personal training certification depends on the certifying body. The design and delivery of the study materials also often varies. For example, the American Council on Exercise (ACE) requires about 90 hours of classroom study, which is delivered in an online format, while the National Academy of Sports Medicine (NASM) requires two days of study in a classroom setting in select U.S. cities.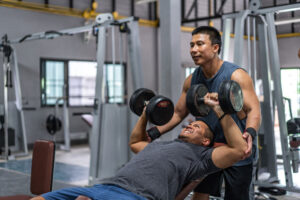 Some accredited certifying organizations, including the National Council for Certified Personal Trainers (NCCPT), provide students with the option of completing an online course of study, or a live workshop or classroom-based course.
The cost of taking a personal fitness certification program also varies. Some programs cost as little as $300, while others cost up to $700-$800. The program fee may include the cost of taking the certification examination, while others charge a separate examination fee that can cost anywhere between $50 and $400.
Program costs, depending on the program format and delivery method, include the cost of textbooks, DVDs, and online courses, in-person workshops and classes, and study guides.
Examination Requirements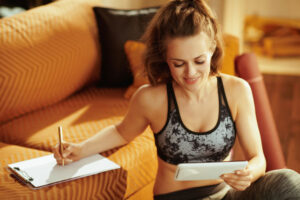 All programs require students to take and pass an examination at the end of the program to prove competency for the certification. Most examinations are completed at testing centers throughout the U.S., although some organizations, such as the American Fitness Professional and Associates (AFPA), allow for the completion of an online or mail-in examination.
Most examinations consist of between 100 and 200 questions and take about 2 to 3 hours to complete. The examination may also contain a skills test if you complete your certification during a workshop or live class.
The exam is usually the most critical part of meeting certification requirements. It validates that you have absorbed and can apply the knowledge and skills you learned during your studies. In some cases, you are allowed to re-take the exam (for an additional fee) if you fail to pass it the first time.
Keeping Your Certification Current
The fitness world continues to grow and change. To ensure that you keep up with all the latest developments, certification is not simply a one and done process. Following initial certification, you must renew your certification on a regular basis.
Most certification organizations require renewal every two years.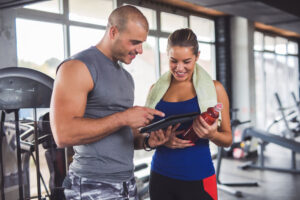 Renewal is a snap compared to earning the certification initially. Many certification programs use online renewals, so you'll need to create an account. Renewals cost money, as well, but it's a fraction of the amount of the initial certification cost.
As a rule, certification renewal will require that you prove you have kept your first aid/CPR/AED certificates current. You'll need to upload that documentation as part of the renewal.
On top of the basic emergency preparedness qualifications, most certifications require you to provide proof that you have completed continuing education credits, which can be earned in various ways:
Classes offered by the certification agency
Attending or presenting at workshops or conferences
Taking classes through other approved providers
Earning an additional certification level
Writing an article that is published in an industry magazine
Taking part in community outreach events
Different agencies have different rules about continuing education credits. You may only be able to apply credits that are earned within the current renewal cycle with some certifications. In some cases, you are not allowed to repeat courses for additional credit. Some agencies will accept credits toward multiple certifications if you hold them through the same provider.
Although renewal can be a chore, it's also a way for clients to know that you are continuing to develop your expertise and to stay current with the newest techniques and training available in your field.
When making the final decision on which certification is right for you, don't forget to check around with other trainers or gyms in your area to see which agencies and certifications are most accepted and in-demand where you live and work. And be sure to check the details on costs, scope of practice, training requirements, and renewal intervals to make sure you know what you are getting into—and what each certification can do for you.
With the right education, the right certification, and the right attitude, there is no goal you won't be able to achieve as a personal trainer.