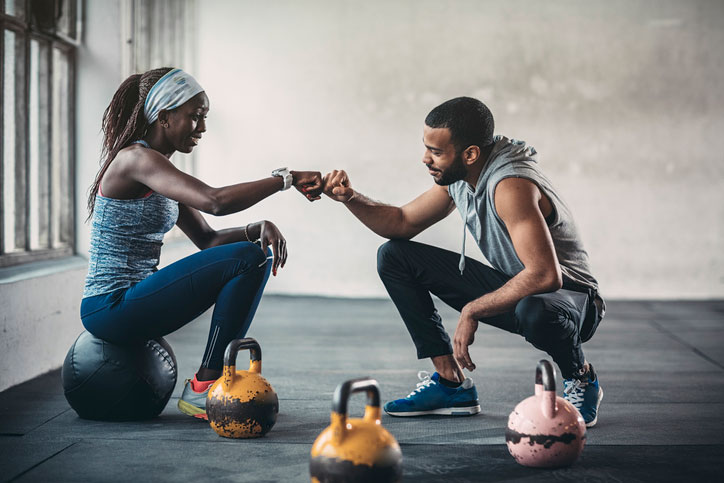 What is a personal trainer? A personal trainer is an expert in physical fitness and exercise. They combine that expertise with interpersonal and motivational skills to lead individuals and groups through exercise routines, while educating them on the most safe and effective ways to achieve and maintain personal fitness.
You can pick them out of the crowd at the gym, on the jogging trails at the local park, or even walking down the street. Posture that looks like it was forged in a foundry, musculature that could have been lifted right out of an anatomy textbook, and an attitude that radiates confidence and positivity.
<!- mfunc feat_school ->
<!- /mfunc feat_school ->
Sponsored Listings
You've crossed paths with personal trainers plenty of times. Now you're looking at what it would take for you to make a career out of helping people look and feel their best, adopt a healthier and more active lifestyle, and take their strength and endurance to the next level.
Every personal trainer knows that ultimately, those goals can only be achieved by the individual. Clients can't hire someone else to lift or lose weight for them. Sweat and effort are the only ticket to meeting personal fitness goals.
But what personal trainers do provide is the expertise and motivation to help people achieve those goals. Personal trainers have a lot of love for fitness, and it shows. In their own lives, they put a strong focus on:
A healthy lifestyle
A commitment to appropriate and sustainable changes leading to that lifestyle
A desire to share their passion for health and fitness with others
Put those things together with the right education and training, and you too can serve as a positive role model for the exercise-challenged or for those who want to take their fitness to the next level.
Today's Personal Trainers Know How to Align Workouts and Coaching with the Goals of Each Client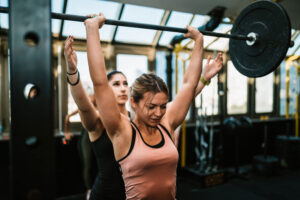 Although the type of training and training style they deliver will vary, the role of these fitness gurus remains consistent. Personal trainers are committed to:
Helping people pursue or maintain a healthy lifestyle.
Educating people about the many ways to engage in physical exercise and healthy living.
Motivating people to stick with it to achieve their personal fitness and weight loss goals.
Personal trainers have a few things in common: they are healthy, fit, and active. But just having those personal qualities isn't enough. There are a lot of people in great shape who wouldn't necessarily make great personal trainers. At a minimum, personal trainers need:
Knowledge of human anatomy and the concepts of functional exercise, exercise science, and basic nutrition
The ability to successfully assess and screen their clients, both initially and progressively
The ability to design health, wellness, and physical fitness programs that are tailored to their clients' specific needs, wants, and goals
The ability to execute fitness programs that are both safe and effective
A thorough understanding of cardiovascular, flexibility, and resistance exercises
A dedication to personal and professional integrity
Successful personal trainers use their energy and expertise to deliver safe, effective, and fun workouts to the clients they serve.
How Personal Training Actually Works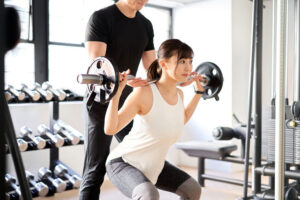 Putting knowledge into practice is the secret to success as a personal trainer. It's not enough to have all the physiological knowledge and fitness data in the world down pat. Trainers must be able to use psychology and interpersonal dynamics to motivate clients through a program.
Those qualities also factor in to how programs are designed. Putting the personal in personal trainer means taking into account all the limitations, individual goals, and psychological factors of each client and crafting a specific program that will be most effective. A trainer working with an 84-year-old woman with colon cancer is going to come up with a very different approach than someone training an obese 23-year-old man.
Personal Trainers Offer Equity and Empowerment to All Clients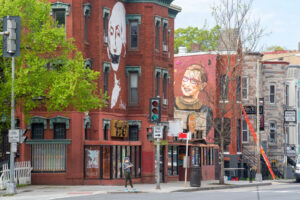 Personal trainers work with everyone, from the average and anonymous to the influential and famous. Although many trainers dream of a gig helping Hollywood celebrities get in shape for the next superhero film franchise, one of the most famous personal trainers worked with clients known for a different sort of power.
Bryant Johnson played football in high school and joined the Army after graduation. He put in thirty years of service, almost half of it in elite Special Forces units, so fitness was second nature to him. But after leaving the military he took a job in the clerk's office of the federal court of the District of Columbia. Only after a colleague suggested he turn his passion for fitness into a business did he start taking on clients from the DC legal world.
In time, that business reached all the way to the highest court in the land, where Bryant trained three different Supreme Court justices, including Ruth Bader Ginsburg. His success in coaxing the 5-foot, 100-pound octogenarian through a workout involving squats, planks, and stretches landed him on NPR, the Late Show with Stephen Colbert, and a book deal for The RBG Workout.
His success comes straight from his perspective: "You are with this person when they are most vulnerable. They show you their weakness, but the point is not to make them feel weak. Your job is to build them up."
After Ginsburg passed away, Johnson offered one last example of that attitude: at her memorial service, as he approached her coffin to pay his respects, Bryant hit the deck and cranked out three perfect push-ups in her honor.
Successful personal trainers are not only excellent teachers, but also supportive and enthusiastic champions of physical fitness. Their overall goal includes not only teaching their clients, but helping them develop self-efficacy and confidence by providing them with the encouragement and motivation to stick with their programs and achieve their fitness objectives.
Trainers may work with clients one-on-one, designing programs tailored to have the greatest impact on the client's individual goals while keeping their capabilities in mind. But they may also work with larger groups, in boot camps or other organized classes. Some author books, while others create online content and become YouTube famous for their workout videos.
In every case, personal trainers use their knowledge and expertise to create healthy, sustainable, effective exercise and eating programs to move clients toward better health and the sense of satisfaction and contentment that comes with an active lifestyle.
How to Become a Personal Trainer: Education, Certification, Experience, and Insurance Requirements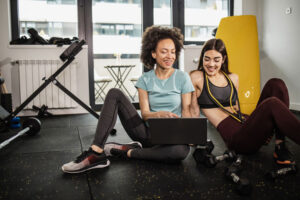 Becoming a personal trainer can seem deceptively easy. Unlike athletic trainers or physical therapists and their assistants, all of whom perform client services that fall under state licensing laws, personal trainers are not required to be state licensed or certified.
But that doesn't mean there are no standards. The market for personal trainers is highly competitive. Unlike many professions, the results are plain for everyone to see. You'd better know what you are doing before you get started in personal training to ensure the workouts you lead clients through are safe and ability-appropriate. Diving in without the right level of preparation can lead to injury and lackluster result among clients who won't be shy about expressing their dissatisfaction. It's a situation that could put your reputation at risk.
In the absence of accreditation and regulations for personal trainers in the U.S., the personal training profession is largely self-regulated through voluntary credentialing. By making use of voluntary certification options, trainers can both develop their expertise and signal to potential clients that they have done their homework and proven their value.
Education and professional certification can go a long way in establishing yourself as a highly qualified personal trainer.
Deciding how to go about developing your own qualifications as a personal trainer is a big part of setting yourself up for success. In general, you can break that path down into a few crucial phases.
Educational Options for Personal Trainers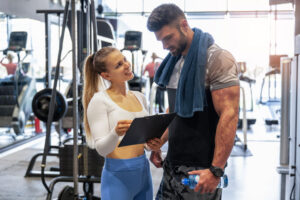 Given the large number of programs related to the practice of personal training, you will have a wide array of choices when it comes to earning a degree to kick-start or advance your career.
There are several associate and bachelor's degree majors relevant to the profession. Any of these can provide you with the education you need for a successful career in the field. But each of them also comes with specific advantages and emphases in personal training that you should take into account:
Kinesiology Degrees
Kinesiology is the study of the mechanics of body movements. It involves learning the elements of human anatomy, biomechanics, and physiology in the context of exercise. Students learn how the human musculoskeletal system is designed to work, and how to evaluate and measure aspects of that performance in individuals.
The Advantages of Kinesiology Degrees for Personal Trainers: The emphasis on the mechanics of movement in these programs make them a clear winner for trainers who plan particularly active and dynamic types of personal training, focused on weightlifting or other intensive movements.
Health and Fitness Management Degrees
Personal fitness training is a business as well as a service. For an education that combines leadership and business skills with health and fitness training, a health and fitness management degree is ideal. These programs combine biomechanics, physiological, and nutritional education with core principles of accounting, economics, organizational leadership, and even legal issues for businesses.
The Advantages of Health and Fitness Management Degrees for Personal Trainers: Personal trainers who are angling for management positions in gyms or other big fitness organizations tend to go this route. It's also a wise option for those who want to grow their own businesses beyond just offering individual services, since it comes with the kind of business and leadership education fitness entrepreneurs need.
Exercise Science or Exercise Physiology Degrees
These degrees teach students all about the structure, function, and processes of the human body, specifically as they relate to exercise and movement. They have a broader curriculum than kinesiology studies, however, and bring in lifestyle elements such as nutrition and metabolism alongside the basics of movement. That also means that you'll get more coursework in biology and chemistry than in most other fitness-related degrees.
The Advantages of Exercise Science & Physiology Degrees for Personal Trainers: The broader focus of exercise science programs allows you to develop your expertise beyond the basics of biomechanics and adds to what you can offer clients in terms of advice for nutrition and general health and wellness.
Sports and Nutrition Degrees
This major combines the elements of human and sports nutrition with anatomy and exercise physiology to give you the right understanding of the whole human system in order to deliver holistic fitness guidance to your clients. This option opens additional job opportunities in organized sporting programs, such as coaching and conditioning for collegiate and professional teams.
The Advantages of Sports & Nutrition Degrees for Personal Trainers: The dual role of these degrees in nutrition and fitness makes them a good fit for instructors who like to deliver overall lifestyle guidance instead of just fitness training.
Physical Education Degrees
Physical education degrees also take a more holistic approach to exercise and fitness, but also combine it with explicit training in teaching methods. Because they are often core parts of teacher training programs, physical education degrees are likely to include subjects like human development across the lifespan and instructional technologies in addition to biomedical principles and fitness development. They may also place a stronger focus on nutrition and safety than other degrees in the field.
The Advantages of Physical Education Degrees for Personal Trainers: PE degrees are clear winners for fitness practitioners who hope to focus on teens and kids in their practice. They also provide a multi-purpose degree that can take you into a career in professional education as well as personal fitness instruction.
Human Performance Degrees
Human performance degrees are a more general approach to sporting and fitness training. They combine the usual nutritional, psychological, and physiological studies found in other degrees with a big-picture view of what it takes to maximize training for specific goals. That means they often come with concentrations in different subjects like coaching, strength and conditioning, sports science, or physical education.
The Advantages of a Human Performance Degree for Personal Trainers: Human performance degrees offer both flexibility and specialization for personal trainers. You can zero in on a specific performance element to hone your expertise or keep your options open through more general tracks designed to teach methods for maximizing fitness achievement.
Of course, there is also a significant difference between associate and bachelor's level programs in all of these majors. A four-year bachelor's degree will include more general liberal arts studies and a wider range of electives to choose from, as well as more in-depth and exciting field placement options. On the other hand, associate (AA or AS transfer degrees) and applied associate (AAS career prep degrees) can be completed in only two years and for much less money, making it a fast path to a career in personal training.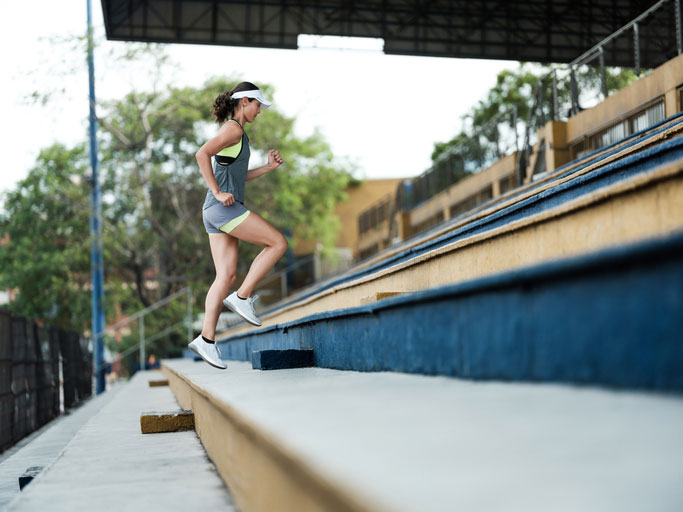 Key College Coursework for All Personal Fitness Education Programs
No matter what degree program you pick, it should include a comprehensive framework in personal training concepts and skills. Important coursework in these programs often includes:
Conditioning – Conditioning courses teach you how to combine strength, cardio, and nutritional elements into a sustainable program for developing well-rounded fitness improvements.
Kinesiology and motor development – The science of movement gives you the keys to helping clients perform safe, useful biomechanics in exercise programs.
Anatomy and physiology – Essential core knowledge of how the human frame and body systems and structures function are important to developing your assessment and exercise planning skills.
Psychological aspects of exercise – Successful personal trainers understand that half the battle is getting inside the client's head and figuring out how to motivate them; coursework in sports and exercise psychology are how you develop that knack.
Measurement and assessment – You can't determine the degree of progress that has been made without measuring it. Coursework in measuring and assessing health and fitness allows you to establish baselines and show progress throughout your programs.
Health, Safety, and First Aid – Personal fitness trainers never want to be first in line to any kind of health crisis or emergency, but it's a risk you run with any kind of exercise program. So it's necessary that either your degree or outside training include critical skills such as first aid and CPR, as well as basic evaluation methods for chronic and critical health and wellness risks.
Particularly at the bachelor's degree level, you'll also frequently find that degrees come with opportunities to pick up internships or practicum courses that put you into real, functioning fitness training businesses and help you learn on the job. With both your instructors and actual fitness professionals overseeing your work with real clients, you'll develop hands-on skills with a safety net long before you jump into individual training on your own.
Electives Allow You to Tailor Your Degree to Your Training Style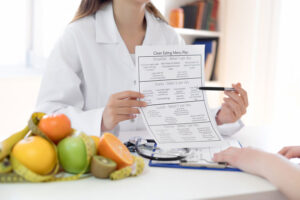 One of the major benefits of pursuing a college degree is the ability to branch out beyond your core major and pick up valuable skills that support your success in both life and business. A two-year associate program will offer the opportunity to pick a handful of electives in various liberal studies courses such as business, communication, and math; a four-year bachelor's will have broad requirements in diverse areas like art history, sociology, and English. The extensive elective options at the bachelor's level will offer up coursework in business, management, and marketing, preparing you to oversee a fitness center, gym or even your own personal training business.
Just as important, these programs teach you critical-thinking and problem-solving skills that will come in handy as both a trainer and a small business owner.
In the same way that a personal trainer can hone the body for better health and fitness outcomes, college professors help encourage students to push past their comfort zones to grow and develop during their time in school.
Certification Options for Personal Trainers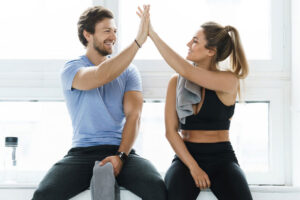 For many personal trainers, professional certification serves as a mark of excellence that displays a commitment to the business of fitness. Professional certification also indicates that you practice according to:
A strict code of conduct
Community safety standards
A high standard of professional integrity
Certifications and the standards they represent are important in the personal training industry as a whole and to your individual clients.
There are many certifying bodies for personal trainers. You'll want to take your time to research your options to ensure the national certification (or certifications) you choose to hold best represent your personal training philosophy and skillset. You can be sure that we don't include any mention of dubious organizations, but even among those that are fully above-board, there can be big differences in terms of specialty or focus, not to mention differing opinions on which ones are the best.
Accreditation is a Consideration in Personal Trainer Certifications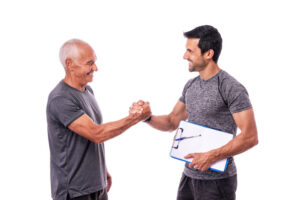 One key thing to look at in certifications is whether or not the organization that offers them has been fully accredited.
Accreditation is a process by which certifying bodies are themselves evaluated and checked for standards of quality. It's a way to avoid fly-by-night certifications that are all about collecting your money and issuing you a worthless piece of paper in return.
So one of your first steps should be to check whether the certification you are interested in is offered by an agency that holds national accreditation.
The big names in personal training certification accreditation are:
Just as important is finding the certification that is well-respected and recognized by potential clients in your field and your area.
To give you some idea of what's available, we put together a list of the most high-profile certifying bodies in the industry, and the professional certifications they offer for personal trainers:
American Fitness Professional and Associates (AFPA)
Advanced Personal Trainer Certification
Functional Training Specialist Certification
Master Personal Trainer Certification
Personal Trainer Certification
Personal Trainer for Special Populations Certification
Post Rehab Exercise Specialist Certification
Senior Fitness Certification
Strength and Conditioning Specialist Certification
American Council on Exercise (ACE)
Personal Trainer Certification
National Strength and Conditioning Association
NSCA-Certified Personal Trainer
American College of Sports Medicine (ACSM)
ACSM Certified Personal Trainer
National Academy of Sports Medicine (NASM)
Certified Personal Trainer (CPT)
National Council on Strength and Fitness (NCSF)
NCSF Personal Trainer Certification
It's not an exhaustive list by any means, but these are the big names that everyone in the industry is familiar with. Each of these has its own unique set of requirements personal trainers must meet to become certified, but they generally fall into three categories:
Training – Part of what a certification tells clients is that you have developed your skills in certain areas and to certain standards. For most certifications, this means you'll need to either prove you have training or go through a course to ensure you have received the right instruction in tools and techniques. Most certifications also require you have at least a high school diploma.
Time – Some certifications also require a certain amount of time spent working with real clients or studying your craft.
Testing – Finally, to validate your knowledge, you'll have to take and pass an examination unique to that certification.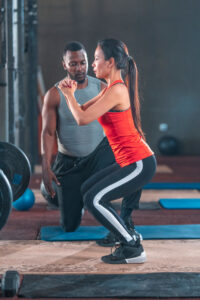 Of course, each certification costs money, usually in the hundreds of dollars. With so many choices in the market, you'll also want to make sure you are picking a certification that is worth the cost. You may even want multiple certifications, particularly if you decide to specialize in a part of the field that has more demands and higher standards, like Pilates or yoga.
CPR/AED certification from a nationally recognized organization, such as the American Red Cross, is also a must in the industry, and a standard requirement to obtain and maintain a personal training certification.
Keeping your certification in good standing requires regular intervals of continuing education to ensure you're up to date on the latest developments in the field.
Experience Requirements for Personal Trainers
In addition to a comprehensive resume that details your educational and certification achievements, clients and employers will want you to have some type of experience in personal training and fitness.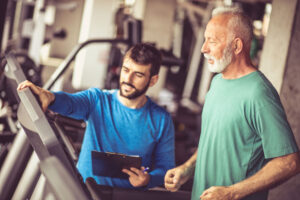 The fact that it's not always easy getting that initial experience before you technically qualify to work in the field is a classic problem that professionals in all kinds of fields encounter. The good news is that personal training offers some clear options for getting that experience along the way.
For many, becoming a personal trainer is a natural progression of their passion for physical fitness and experience working out in fitness centers and gyms. Existing workout routines and locations can give you an in when it comes to building up your training hours. You may be able to volunteer at your neighborhood gym helping new members learn the ropes. Or you might know a current personal trainer who is willing to take you on as an assistant for a while to help you get into the business.
Some certification programs also come with internship options as a part of the training package you pay for. In these cases, it feels a little like paying for the privilege of serving clients, but it's a guaranteed way to get qualifying experience when you are starting from zero.
Insurance Requirements for Personal Trainers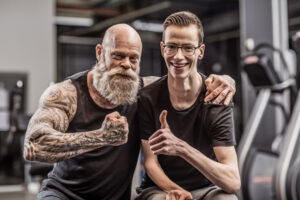 Property and professional liability insurance is a must for personal trainers, regardless of whether you train in a club, in a studio, or in a private setting.
For the same reasons that you will need to get first aid and CPR certifications, insurance is something you need to have… and hope you never need to use.
The specific requirements for the level of coverage you will have to carry will depend on the state in which you are practicing. Although you aren't required to get a special license to work as a personal trainer, you will be operating as a business and will have to conform to business regulations.
Even more important, many of the facilities where you may plan to work with clients as an independent trainer will often require you to carry a certain level of coverage.
Types of Insurance Available for Personal Trainers
There are many types of insurance, but there are two in particular that are considered most important for personal trainers:
General liability – As the name suggests, this covers general claims of liability that may be made against you that come from all kinds of accidents. Drop a barbell on a client's phone? General liability has you covered. The same client trips over your water bottle and breaks their arm? General liability. This is the catch-all category that covers most kinds of accidents that can happen in the course of business, even things unrelated to actual exercise and training.
Professional liability – Sometimes called an errors and omissions policy, professional liability covers you against claims of negligence in the performance of your training. This is the kind of insurance that will come into play when you are accused of actually causing injury through your exercise programs, or as a result of breaching an agreement on something the client was promised, such as pre-paid services that weren't rendered.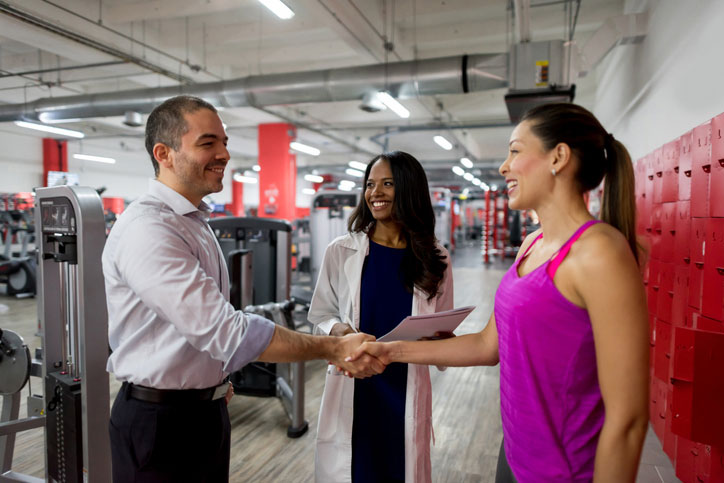 While those are the main kinds of coverage you will need, depending on your specific business, there are other types of insurance you may need to carry:
Property or rental insurance – If you own or rent your own training space, this insurance can cover damages that may occur.
Automobile insurance – If you use a vehicle for business purposes, you might need a commercial auto policy to cover those uses beyond your personal car insurance
Product liability insurance – Many successful personal trainers branch out eventually into publishing their own workout videos, books, or branded gear. This insurance will cover you against claims that these products have failed or caused injury.
How To Get Personal Trainer Insurance
It turns out that certification plays an important role in your personal trainer insurance as well. For starters, many of the professional associations that certify personal trainers also provide low-cost insurance to members who maintain certification in good standing. But even if you are going with a different insurance carrier, many of them will want to see that you have been certified by an accredited certification body before they will do business with you. Even those that might issue you a policy without certification will probably offer a discount if you do hold one.
Liability and property insurance are also offered through some of the nation's largest insurance companies.
Property and liability insurance is a requirement since you will generally work as an independent contractor. Insurance serves as an important risk management measure that protects you in the event of an injury claim from a client. Even if you are working for another company or a gym, you'll want to consider your own insurance depending on how much their coverage protects you personally.
While all of these are the trappings that a personal trainer needs, what a personal trainer is goes far deeper than certifications and insurance. In your core, you need to be the dedicated, caring, effective guide and inspiration that your clients need to make their own big improvements in personal fitness.
A good personal trainer is hope, and the promise of better health and a happier life.